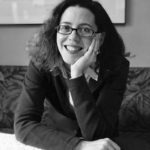 Daisy Bassen
EPITHALMION
Excerpt from Delmarva Review Volume 11. 
This will be easier than believing every appled fall
The bulbs we plant, without benefit of camphor
Or invocations against squirrels, will survive
Smothering and come the April muds
Turn a scarlet cheek to their betrayers. This will be
Simpler than knowing the low moon of winter
Isn't butterfly-pinned in the cherry dark,
Stuffed in the line of bare maples near the seminary.
There is no Cadillac shark-finned enough for us
To get to it, and even our improved teeth
Are not so sharp to chew a skinny slice.
This is not so hard as moving one plastic rook
From his acre of cardboard light, the wrist-flick dunk
Of a tea bag, one breath in a long night of dreamless sleep.
Take one stop-action step, one footfall from dim
To stone-bleached glare, and we will make
A new earth around us, air leaping like a strong salmon,
The palm's slap..! Then the sun will honey-suckle us,
Newborns going pink.