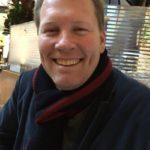 Adam Tamashasky
AUTUMN SESTINA
Excerpt from Delmarva Review Volume 11. 
In the minutes before bedtime, evening's gathering
the last scraps of light to her orange
sky. My daughter runs to another tree and leaves
the last one to dim. We always end
our days here on this corner lot lost
behind a phalanx of trees, so it's here shadows first fall.
Which is not to say this foreshadows her first fall,
even if in the dusk the portents are gathering.
I'm striving to be a parent on whom nothing is lost,
not even the way the dying sun fades her face to orange,
not even my desire to tell that there's an end
for all of us as final as for her leaves
that dissolve to crackles beneath her as she leaves
for another tree. Yes, even that tree has a fall
in store, daughter. And that's okaythat we end.
But now's for laughing, for the smell of autumn grass, for gathering
the fallen tears of the trees in handfuls of orange
to see if holding on enough keeps things from getting lost.
You'll be lost.
This leaves
me standing in orange
in the fall
gathering
for an end
that should follow my own end.
Remember, when mine comes, you're not lost,
though, from time to time, in a gathering
dark you may hear a scuff of leaves
and turn, expecting the fall
to cast back your father in orange
light, orange such as you remember orange
from a childhood you see now doesn't end,
the way that falling leaves always fall
in a memory.
— I'm sorry. I'm lost.
Carrying on this way, as I do, leaves
me overlooking the dark's been gathering.
Let's go, now. Leaves, stay lost.
The sky's orange has fallen.
Our gathering's at an end.