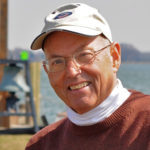 George R. Merrill is the featured nonfiction writer in Volume 14 of Delmarva Review. He is an Episcopal Church priest and pastoral psychotherapist. Merrill is a writer, photographer, and former nonfiction editor of the Delmarva Review. He has authored two books on spirituality: Reflections: Psychological and Spiritual Images of the Heart and The Bay of the Mother of God: A Yankee Discovers the Chesapeake Bay. A native New Yorker, he provided counseling services in Hartford, Connecticut, and Baltimore before moving to Maryland's Eastern Shore. His essays, some award winning, have appeared in regional magazines and are broadcast twice monthly on Delmarva Public Radio.
Delmarva Review's Fiction Editor and host of the radio show Delmarva Today, Hal Wilson, probes the meaning and purpose of the popular nonfiction personal essay form with George Merrill in the following Delmarva Today radio podcast.
Click below to tune in. This is a fascinating and timely discussion.