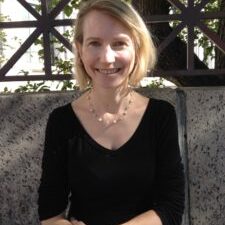 DelmarvaPublic Radio's weekly program, Delmarva Today, is hosted by Delmarva Review's very own Fiction Editor, Hal Wilson. In Writer's Edition #73, Hal interviewed Holly Karapetkova, whose poetry has appeared in Delmarva Review. Her writings are broad-ranging and unveil the deep wounds left by our history of racism, slavery, and environmental degradation. In sad recognition of the 400 year anniversary last month of the introduction of slavery into the colonies, our conversation will focus primarily on Holly's poems on slavery published in volume 11 of the Delmarva Review. It was in August 1619, that a pirate ship dropped anchor off Jamestown, Va. 20 to 30 slaves were offloaded and sold to the colonists. This was only 12 years after the founding of the colony and one year before the Puritans landed at Plymouth Rock. We forget that it was also 157 years before the declaration of independence. 400 years ago last month, at colonial Jamestown slavery was woven into the very fabric of our country. Holly's poems capture that ingrained nature of racism we still experience today.
Continuing the theme of exile and separation, we also discuss a number of her poems on immigration.
Holly's poetry, prose, and translations have appeared widely in print and online in places such as Alaska Quarterly Review, The Southern Review, Prairie Schooner, Poetry Northwest, The Nashville Review, and Delmarva Review. Her books include Words We Might One Day Say, winner of the 2010 Washington Writers' Publishing House Poetry Award, and Towline, winner of the 2016 Vern Rutsala Poetry Contest from Cloudbank Books. In addition to her poetry and translations, Holly has written more than 20 books for children. She teaches in the Department of Literature and Languages at Marymount University.
Click below to tune in. This is a fascinating and timely discussion.